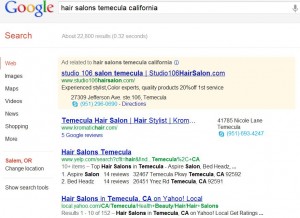 Simply put SEO as it relates to your website or blog is to make your website the best it can be with words and phrases that match the ones your potential customers use to find you.
Search engines are a larger source of business referrals than the Yellow Pages, businesses no longer need to spend thousands of dollars on advertising in directories and magazines.
Most of your customers no longer use the Yellow Pages to find a business. Google is the new phone book. Most local searches look something like this, "what your customer wants, city, state" which may look like this "winery, Temecula, Ca" or "hairdresser, Murrieta, Ca" depending on what type of business and the location your customer is looking for local products or services. The Internet is no longer just for global or national businesses. Local business owners in Salem, Oregon; Murrietta, California or Temecula, California must have good SEO on their website or blog.
The general idea is that if Google or other search engines find the words and phrases your customer uses in their search on your website or blog your website will show up in the search results.  There is some strategy and technique to show up on the top of the first page of the search results. Most of your potential customer will chose from the first page of the results and most often he or she will make their selection from the first three merchants – That's where you want to be.
Having a website is not enough unless your customers can find it. A website or blog that is optimized with the words and phrases that the search engines uses to match your website or blog up with prospects who are looking to make a buying decision is absolutely essential in today's market place.
If you are not getting leads from your website or blog then we need to talk. Your website or blog should be your number one source of business. Let me invite you to call for a consultation today.