It's time to start thinking about how to grow your business in 2012. But before you make any plans, take stock of your financial situation. You need to look at the numbers to make sure you're moving forward and not just treading water — or worse, drowning.  We recommends asking (and answering) the following 10 questions to evaluate how your business is doing as 2012 arrives.
How did this year's sales compare to last years sales? past 3 – 5 years?
How did this year's profits compare to last years sales? past 3-5 years?
What are the top 5 selling items and the bottom 5 selling items in your inventory?
Has your customer based changed significantly?
Who brings you the most business?
Did the business meet it's goals in 2011?
Are repeat sales up, down or flat?
Are customer referrals up, down,  or flat?
Who sends you the most referrals?
Is overall equity up, down or constant?
The honest answers to the above questions will help you to determine things like
What products are going to sell well during the holiday season?
 How much inventory must be purchased to meet demand?
Will markdowns be required as you begin the new year?
And as the fourth quarter comes to a close, retailers are expected to make the largest prediction of all: Can growth and profit be expected in the new year?
Without the tools for proper analysis of your financial situation, this prediction is nothing more than an uneducated guess. Whether a "big box" retailer or a small mom and pop retailer you need to have accurate information without hours of work to access this information. The simplest way to have this information at your finger tips is with a POS or point-point-of-sale system. A POS is critical management and operations tool for a strong business. It's kinda crazy to put as many hours into your business as most small business owners do – and you're probably no exception – and not have a smart exit strategy. One day you're going to want retire and sell the business so you can travel the world in style, right? Don't shake your head and say, "I wish!" With a POS system you will have the management tools to have the financial insight to give your business the leadership it needs to succeed. When you eventually sell your business you will be able to produce the information that shows all the reasons why buying your business is a good investment. Our POS systems have over 80 reports to analyze your business, everything from inventory to labor costs. Call for a complete analysis and ROI on your investment into a POS for your retail store or kiosk.  Call me today. I can help –  951-293-0775.
---

Independent Retailer is the leading trade publication for independent retail store owners. Each month, Independent Retailer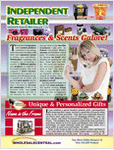 delivers in-depth news and feature stories, targeted to the everyday business needs of independent retailers, wholesalers, distributors and closeout buyers. Articles focus on marketing, management, finance, new products, store security, employee relations, company profiles, and much more. Independent Retailer's vital business information produces greater readership, more pass-along readership, more time spent with the publication, and more exposure for your advertising.