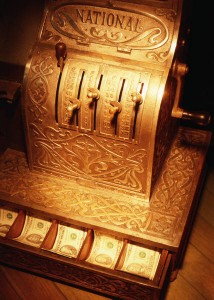 Computerized retail point of sale (POS) systems offer significant advantages over conventional cash registers.  By combining POS computerized cash registers with bar code scanners, inventory control software and wireless handheld inventory tracking devices, you can measurably increase control of your business while cutting costs and increasing profits.
Speed Customer Checkout: With a barcode scanner and computerized cash register, you can checkout a customer in half the time required with a conventional cash register.

Increase Accuracy: Checkout is more accurate because the price of every item is specified in your POS.

Reduce Theft: By using a computerized cash register, you can reduce theft by an average of 2½% because every piece of inventory in your business is monitored.

Control Inventory Shrinkage: By comparing on-shelf inventory to your computerized reports, you can monitor breakage and non-theft inventory that "walks" out of your business, as well as track new items as they arrive. Computerizing reduce inventory shrinkage by up to an additional 2½%.

Manage Inventory Levels:  Computerized inventory reports allow you to track trends and seasonal sales to order more efficiently. Studies have shown that retailers who do not use computerized inventory management tend to overstock their stores by 20 to 40%. Let's assume your store carries an average of $125,000 in inventory. If only 20% of that inventory is overstock, you have invested $25,000 in excess inventory.
Generating sales is more than just having available product to buy, it's having the products your customers want, when they want them . As an example, how many times a week do you, or your sales staff, say: "Sorry we're out of stock on that right now." Maybe it's only a $20 item, and maybe it only happens twice a week. But how does that translate to real numbers?

Monitor Your Margins: Inventory reports can help you recognize and stock more products that bring greater profits and fewer products that carry lower profits.

Keep Track of Your Customers:  Your best customers are your present customers. Customized mailings based on computerized contact lists can help keep your customers coming back.
Over the next few days I will talk more about each of these reasons why it's is "money in the bank" to install a POS system in your retail business.