Have you ever wondered what separates
the super successful professionals from those that just get by?
You know, the professionals it seem to have all the clients
they can handle, the ones that seem to have a never-ending stream of referrals
that are begging to do business with them.
Have you ever wondered how they became so successful?
The answer is they've been able to build a large network of people that
Like them
Trust them
Remember them
Refer them
That's it! That's the secret!
Would you like to know how they do this?
It's pretty easy – they follow three simple steps. Let me explain by using the analogy of farming. When you farm you essentially do three activities
First of all, you plant seeds
Then you nurture the seeds so that they grow
And finally, you harvest your crop
It's the same in business
You plant seeds by meeting a lot of people and making new clients
Then you nurture those seeds by following up and staying in touch with these people on a regular basis and in providing them with positive experiences to grow your relationship with them
And finally, you harvest by reminding your network of friends and happy client that referrals are important to your business and asking them if they will refer you to their friends
Simple right? What we found is that most professionals are great at meeting new people…but not so great at nourishing the relationships and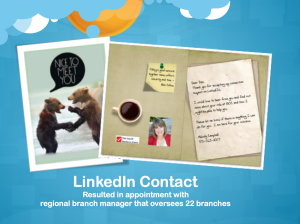 asking for referrals. So after working with professionals over the last fifteen years in developing, testing and implementing dozens of systems we found one method out performs them all it's called "The Smart Follow-up Referral System" and it's created explosive results for nearly every professional who's ever used it it's based on the principle of the emotional bank account talked about by Stephen Covey in his book The Seven Habits of Highly Effective People. 
Everyone has an emotional bank account which is how they feel about others the more deposits you make into a person's emotional bank account the better they feel about you and the more inclined they are to help you if you've made enough positive deposits into a person's emotional bank account when it comes time to make a withdrawal – like asking for reefer all people are happy and willing to help you.
We found over the years that the secret ratio of deposit to withdrawals is about three to one so for every three deposits you can make one withdrawal. We created a referral program that follows the principles of this concept using one of the most effective but underutilized tools — and that is the humble greeting card.
Greeting cards automatically exude feelings of appreciation, kindness, and thoughtfulness. Sending a card shows that you care because you took the time and effort to send it. Also, people love to receive physical things they can touch and hold in their hands.
Another great thing about greeting cards is that they can be sent to hundreds of people at the same time which help you to leverage your time. Finally, greeting cards linger, they hang around people's homes and offices so people are reminded of you for a long time.
Here's how the smart follow-up referral system works.
First of all you want to assemble a list to best clients and friends
The next step is to send a relationship building card every month for three months. These relationship-building cards have no marketing whatsoever in them; they're simply designed to follow up with people and let them know that you remember them and that you care about them.
Each relationship building card is built on a theme that has helpful tips and techniques and contains a heartfelt personal message.
You can personalize the card by inserting a photo of yourself,  your signature and your contact information.
On the fourth month, you send the referral card that respectfully and sincerely asks for a referral in a very dignified way.
These are greeting cards with messages that you'll be proud and eager to send your clients and friends now you simply repeat this follow-up process three times a year.
The more clients and friends you follow up with using this program, the more referrals you are going to receive.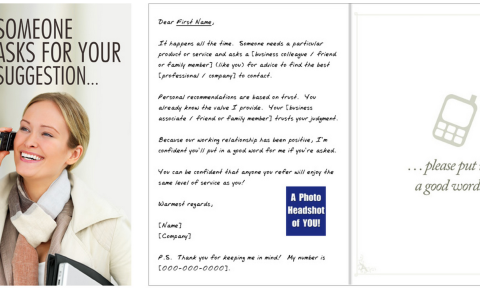 By the way, this wasn't originally my idea. Did you know a little unknown car salesman started from scratch and rose up to become the Guinness Book of World Records "Greatest Salesman in the World" – 12 years in a row. His name was Joe Girard. He revealed that his secret to success was following up with everyone he ever met using a simple greeting card mailing program.
Every month he would send a greeting card to everyone he knew. At his peak, he was sending out over 14,000 greeting cards a month. He said, "The moment he sent his card each month the switchboard would blow up with calls for new business."
Imagine trying to do these monthly follow-up mail out manually. I'm sure you would agree that this would take a lot of time and effort which is why most professionals wouldn't even think of implementing the system.
But what if I told you that you could launch this powerful follow-up referral system from an app on your phone?
I use a state of the art greeting card system called Send Out Cards, that automatically personalizes, prints, and send your custom greeting card follow up campaigns for you. No writing cards one by one, no addressing and stuffing envelopes, no running to the post office…it's all done for you automatically like a well-oiled machine. The greeting cards are a super high quality that is printed on heavy card stock with a beautiful glossy coating, inserted into a fine white greeting card envelope that is addressed with an authentic handwritten font, with a first class stamp.
The best part of the system is it is extremely inexpensive implement. I mean it's so inexpensive that you'll say to yourself, "what's the catch?" but there isn't a catch!
All you need to do to get going is to follow these five steps:
Step 1: Register for an account with Send Out Cards
Step 2: Upload your list of clients and friends into the Send Out Cards system
Step 3: Contact me using the form below for one of our turnkey smart follow-up referral system campaigns to import into your new Send Out Cards account
Step 4: Customize your Smart Follow-up Referral campaign with your photo and contact information and then
Step 5: Push the send button – Once you do that the system starts working on its own without you ever having to worry about it. While you're serving your clients…the system is working for you. It's that easy.
The Smart Follow-up Referral System flat out works!
It's been said the most valuable asset you'll ever have in your business is your relationships with your clients and friends. The more and better relationships you have, the more referrals you'll enjoy.
So I've got a question for you, what systems do you have in place today that consistently help you build more and better relationships?
If you're ready to give the system a try today, complete the form below and I will enroll you in this brilliant system.