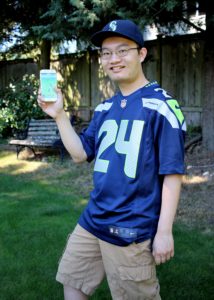 We're really proud of the extra training we invest in! These certifications represent many hours of research and training by experts. 
We're also pretty sure that these certifications set us apart from your favorite high school student that spends hours connecting with friends in social media but has no context for digital marketing best practices that produce specific results.
If you're looking for measurable results for your marketing dollars – The Small Business Guru is the right choice for digital marketing. 

Melody Campbell, The Small Business Guru earned a master's degree from Full Sail University in 2014. Full Sail's Digital Marketing master's degree offers an advanced overview of multichannel marketing, including the fundamentals of web culture, SEO, and analysis of consumer behavior patterns.
Specialized Topics
Advanced Search Engine Optimization – Students analyze organic search methods, directory listings, and paid placement tactics for their effectiveness in attaining search marketing goals.
Advanced Digital Marketing Strategies ‐ This course explores the following: affiliate marketing, email marketing, global marketing, social media marketing, and search engine marketing.
Consumer Behavior and Analysis – The emphasis of this course is to identify specific digital marketing campaigns and gauge their success and/or failure in inspiring the consumer to purchase the product or service.


The Small Business Guru is pleased to announce that owner and founder, Melody Campbell, has become a Yext Certified Partner. Yext, a location management platform, partners with over 4,000 professional marketers, digital agencies, SEO's, web developers, and social media managers to put the best version of each client on the map. Melody Campbell is now up-to-date on the latest developments in the Yext platform. We are now further able to help clients grow their businesses by definitively control their business listings and amplify what they do best. Yext is a robust addition to The Small Business Guru's existing suite of marketing tools.
Use our Free Listing Scan to audit the accuracy of your business listings.