If you want to position your restaurant for growth or preparing for a sweet deal as an exit strategy it is increasingly important to keep your finger on the pulse of restaurant trends. Restaurant Business Magazine has just published their 2012 Trend Book.
2012 trends on tap – As a prelude to this month's cover story we asked around the industry to find out what trends are on operators' minds. A look at what folks are going to be paying attention to next year.
2012 trend book: growth – How do you spell "opportunity"? Nontraditional locations, self-service catering, pop-ups, trucks, kiosks, retail products—that's how. "We're looking at a real, long-term shift in the consumer mindset," says Robert J. Nyman, president of The Nyman Group Ltd. "Age and demographics no longer define where you go, because that's not what's driving behavior. Now it's daypart and price point."
2012 trend book: food – Restaurants may be watching their food purchasing pennies more carefully, but that isn't hampering creativity in the kitchen. We gathered predictions from a team of expert forecasters; here are the top food trends to watch in the coming year.
2012 trend book: beverages – You don't need a crystal ball to advise you that beverages will play an important role in 2012. Harder to predict is where to focus your efforts and investments in the broad beverage arena. Here are a few nascent drink trends that according to the experts are poised to gain traction in the year ahead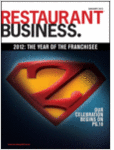 To get your own free subscription to Restaurant Business Magazine to subscribe