Citations & Salem Local SEO: A Comprehensive Guide for Beginners
Call to Schedule a Consultation - 971-563-2007
Citations & Salem Local SEO: A Comprehensive Guide for Beginners
Understanding Citations for Salem Businesses
Ever heard of citations? For local businesses in Salem wanting to shine online, citations are a game-changer! Citations are references to your business online – (NAP) your business name, address, and phone number. Think of them as your business card on the web!
Why Care About Citations?
Boost Your Local Rank: Citations help your business show up when people search for services in Salem. The more and better citations you have, the better you'll rank on search engines like Google.
Appear on Popular Directories: Ever seen businesses listed on Yelp or YellowPages? That's a citation. If your business is there, it's more likely customers will find you.
Get More Website Visitors: Many in Salem trust directories like Yelp for dining out. If your restaurant is listed, food enthusiasts may visit your site or venue directly!
Choosing the Best Citations for Your Salem Business
Don't get overwhelmed. There are countless places to list your business but focus on the most relevant for Salem folks. For example, if you're a doctor, sites like HealthGrades are great. People use them, and you'll get noticed!
Making the Most of Your Citations
Consistency is Key: It is very important to be sure your business name, address, and phone number (NAP) are the same everywhere. Even simple differences can be considered by Google's algorithm as "inaccurate."
Optimize Your Business Description: A description that has been optimized with keywords most relevant to your business will improve your ranking.
Direct Links: Instead of just linking to your homepage, direct folks to specific pages. For a Salem restaurant, link them straight to your menu! For a Salem Home Services business, link them straight to your Services Page.
Add Photos: Show off your Salem business with clear photos. It attracts customers and boosts online visibility. Aside from the logo and cover photos, we recommend uploading photos of the outside and inside of your business as well as category-specific photos.
Shine with Reviews: Good reviews are important to establish credibility with Salem locals but are also very important to Google to boost your online ranking.
Keeping an Eye on Your Citations
You've set up your citations, but the job's not done! It's crucial to:
Monitor Their Status: Sometimes citations can vanish. Use tools to ensure they stay live.
Check Their Impact: Use simple tricks like adding special links (with UTM tracking) to see how many visitors come from these citations.
For Salem businesses eager to grow, understanding and optimizing citations is invaluable. If it sounds daunting, consider our  Local SEO and Keyword Ranking Consultation here in Salem, Oregon – we're here to help!

Navigating Google Business Profile can be challenging. Let The Small Business Guru be your guide! From setup to optimization, to troubleshooting verification – We are at your service. Boost your business's online visibility with us. 📞 Call or 📱 text now and elevate your business's online presence. We Rank – You Bank!
Call or Text for your No-Cost Initial Consultation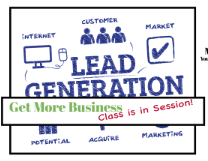 Each week inside this Private Facebook Group, I introduce a topic and open up discussion covering a topic to help you "Get More Business."