…A New Approach to Debt Collection
At The Small Business Guru, we partner with TekCollect,
one of the largest collection organizations in the country.

TekCollect specializes in collecting bad debts for many different industries.
We do it a little bit differently than any other company in that we guarantee results to our users where for an unusually low, one time fixed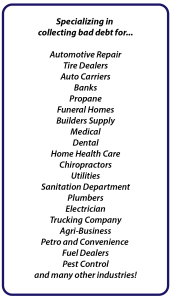 fee, typically less than 10%, we collect any account on your books, regardless of the age, size or debtor's location, anywhere in the country, and when you submit an account to us we do all the work, and the money is paid directly to you.
If a debtor won't pay, at your discretion, and my company's expense we'll take them to court. Now I know at times that can be firm, but that's why we get results.
If you're like most people I talk to everyday, you probably have some accounts you would like to turn into cash without spending 33-50% in some cases to do so…
What do you do with the ones you don't collect?  We specialize in those and I find that small to medium businesses are always looking for a way to improve cash flow.
However, unlike most conventional collection agencies that typically work to salvage a percentage of a debt after it has aged significantly, TekCollect operates on an early intervention approach.
The fixed fee, of typically less than 10%, makes it economical for businesses to place accounts in early in the delinquency cycle before deterioration of the account occurs. Recovery ratios are higher because the accounts are more collectable. It is our goal to give the business owner and their accounting staff the support they need to manage their receivables on an ongoing basis.
Client Retention is a Priority
TekCollect also helps companies preserve their customer relationships. By engaging the TekCollect Audit Bureau early in the process with a Balance Verification Notice we help businesses collect on accounts without alienating the customer. TekCollect is endorsed and trusted by many state and national trade associations. In fact, when I visit your office for an accounts receivable analysis, I will bring example recovery statements and testimonial letters from individual customers and associations that trust TekCollect – Proof of RESULTS!
Leave a comment below if you'd like me to follow up to assist you with early collection, client retention, receivables management.